Medicinal therapeutic stone, list of popular minerals and their medical properties -->rus
In history of humanity the art of heal by minerals has very deep roots. We bring opinion over, but does not advise beyond measure to depend upon this list, because speech above all things goes about the effect of placebo and psychotherapy (no more !!) and some public opinion. Stone will NEVER replace treatment for a doctor-specialist and does not abolish the reception of medicinal preparations.
In mongolian popular medicine agalmatolite was usedd for treatment of rheumatic diseases. In particular, the pieces of mineral and fretted figurines from agalmatolite put to the inflamed joints. At times such appliques were diminished by rheumatic pains. Trust that figurines from agalmatolite help to take off muscular clamps and blocks.
Aventurine helps to contest with allergodermias, rashes, neurodermatitiss and psilosis. Wares from Aventurine reduce pressure, treat a bronchitis and colds, he is used at the diseases of the cardiovascular system and illnesses of circulation of blood. Aventurine is accelerated by cicatrization of wounds, takes warts and improves sight. A massage is useful by balls from Aventurine. Riches of colouring allow to pick up the ball of certain color, strengthening the physical therapy effect of treatment. Especially strong influence is rendered by beads from rifle-green Aventurine.
Agates increase potency, help at the protracted protracted cough and illnesses of throat. Trust that an agate takes off cramps, helps to contest with fears, protects from infections and gastric illnesses. Agates are instrumental in normalization of acidity of gastric juice, and also detoxication of organism. There is opinion, that agates protect a man from an action radiation. It is considered that a blue agate is rendered by the positive affecting thyroid, yellow - treats the organs of breathing and digestion, in particular hepar and bilious ways. A red agate positively influences on the vascular system, helps to get along at endocrine disorders and even viral diseases. Mossy agates render the curative operating on a skin and breathing organs. Dendritovye agates are useful at the diseases of stomach.
It is considered that azurite helps to treat high blood pressure and shortens time of union of bones. Azurit helps to contest with a melancholy, hallucinations, hysteria, epilepsy and other violations of work of the nervous system. Azurit is cleared by blood and bile, helps at the diseases of eyes and infectious diseases of skin. Wares from azurite will help control with the burst of anger, overcome ejaspeliteal excitation, fear and stress. There is information, that azurite is useful to stopping of asthmatic attacks.
Aquamarines are strengthened by protective forces of organism, help at the diseases of skin and lights, take off a toothache, soften allergic reactions, favourably influence on a stomach and hepar. Aquamarines help also to manage with a seasickness, take off stresses and fears, In Tibet and mongolian medicine aquamarine is considered good biostimulant and stabilizator of heartfelt equilibrium. He helps to take off nervous tension and find heartfelt rest.
It is considered that a massage with a help of alabaster balls is able to reduce frequency of pulse, he helps also at different skin diseases and eczemas. Such marbles, saturated with a beeswax, and then pearl essence, usedd as early as Ancient Rome, where they were named Roman pearls. The pieces of alabaster, throats attached to the area, help to manage with the attack of asthma. If to attach such pieces to the temples, they will decrease head pain.
It is considered that decorations with alexandrite are instrumental in the spiritual update of proprietor, counterbalancing his reason and ejaspelites. For the changeable colouring an alexandrite in Europe was considered character of amorousness and jealousy. In Sri Lanka (Indian Ocean) and on territory of India an alexandrite is a stone of driving, prosperity and longevity. Psychics used alexandrite for strengthening of ability intuitional to begin to see clearly the future.
Ancient hindus considered that the "vibrations" of diamond rendered positive effect on the different organs of body, in particular case on a heart and brain. A diamond reduces a high temperature, contests with infections, helps at the diseases of skin, takes off a fatigue and activates the exchange of matters. Trusted in olden times, that a diamond is able to contest with poisons. Supposed also, that diamonds barrier the proprietor from illnesses, drive away bad sleeps, contest with hypochondria, prevent an apoplexy and education in the organism of stone. Modern stone therapeutists advise to drink daily on glass of "diamond water" in which night gold decorations lay with diamonds. It is not recommended here to use decorations, belongings other person or with the stone of low quality. Well diamonds "work" at contact heal. To the people impulsive, with enhanceable pressure, constantly carrying decorations with diamonds is not recommended.
Crusaders carried finger-rings with garnet almandine, to defend oneself from illnesses and wounds. Not by chance since olden times ability to deliver from pain was added these stone. On Russia (CIS) supposed that the stone of similar family helped expectant mothers in births. It is talked in Indian " Ayurveda", that this stone is salutary for violations of "watta kapha" (that metabolic disturbances). Almandine are instrumental in the regeneration of organs and fabrics, stimulates circulation of blood and promotes potency. stone therapeutists trust that almandine help at inflammatory processes and L promote to cicatrization of wounds. Almandine positively influence on metabolism.
Amazon-stone. Legends tell that some scythian women rubbed one breast powder from a green stone which detained its growth. How not from here did legends go about one-bust amazons? Not by chance decorations from an amazon-stone find at excavations of scythian burial mounds exactly in those places, where amazons lived on descriptions of Gerodote and Senior Pliny . Modern stone therapeutists assert that a massage by balls from an amazon-stone is able to take off a nervous fatigue and fix a cardiac muscle. There is opinion, that beads from an amazon-stone are able to rejuvenate a skin and improve its color. An amazon-stone helps at arthritises, rheumatism and osteochondrosis of neck department of spine. For this purpose it is useful to carry Amazon-stone beads or massage the areas of body the piece of amazon-stone.
It was considered in the past, that an quarz amethyst is able to protect the proprietor from a contagion. Modern stone therapeutists suppose that contemplation of amethysts is taken off by a nervous irritation, causes calming and well at a fight against insomnia. Water amethysts lay in which is useful to renewal of cerebral circulation of blood. Decorations from an amethyst advise regularly to clear, taking off negative energy from them.
Stone therapeutists consider that, like a citrine, an quarz ametryne is able to render salutary effect to work of gastroenteric highway. He is useful at gastritis, pyelonephritis, cystitis. Ametriny, violet tints prevail in colouring of which, take off nervous tension.
In spite of that ammolite relatively recently appeared at the market of jewels and minerals, they already had time to win itself glory of healers. The point is that the connoisseurs of Fen-shuy consider the ammolite explorers of energy of CI, the pictures of which play so important role in east medicine. No wonder that admirers of cigun- therapy in the USA and Canada rate highly ammolite, which, on their presentations, improve circulation of energy of CI in the organism of people.
It is considered that yellow apatite is able to render salutary effect on all of body. They especially influence on celiac solar plexus. Along with aquamarine a blue apatite can influence on the organs of breathing. From here salutary operating of this mineral on a throat and vocal cords. Positively an apatite influences and on a thyroid. Jointly with a mountain crystal the blue crystals of apatite can be usedd for harmonization of bodily condition.
Belomorite renders the sedative operating on the nervous system and helps to contest with insomnia. Stone therapeutists count some, that belomorites possess receptive energy and can be useful at treatment of fruitlessness and inflammations of joints.
It is considered that beryls help at pain in the back, at a cold and cold. Decorations with beryls recommend to carry for healing from different gynaecological diseases. A yellow-green beryl which "stimulates surplus of pitt is mentioned in Indian "Ayurveda", cotton woola kapha facilitates surplus". The ancient Indian healers described the state of metabolism of organism these terms. Thus, a beryl in their presentation was able to harmonize flowing of metabolic reactions.
The most active is consider sky-blue turquoise. If decoration from turquoise dimming, it can be pointing began illnesses (you remember that in modern terms the color of stone can deteriorate under act of soap, alcohols, perfumes and fats). It is considered that the color of turquoise can be restored, if an absolutely healthy timber-toe will begin to carry it by a strong aura. Turquoise strengthens sight, delivers from insomnia and nightly nightmares, facilitates head pains. Turquoise positively influences on vocal cords and thyroid.
In Medical stone therapeutics jet is usedd as balls for a massage, amulets, beads, and also as plates for a removal from the palm of negative energy. Trusted in olden times, that jets can prevent cramps and facilitate births, although constantly carrying them during pregnancy was not recommended. It is considered that jet help to decrease pain during the attacks of gout. It is talked that jet attached to the buds is promoted by an arteriotony. There is opinion, that jet rescues from poisonings and illnesses of stomach.
Stone therapeutists add heliodors properties beneficially to influence on the function of hepar, spleens, pancreas and to stabilize the rhythm of heart-throbs. Heliodor with the admixture of uranium possess weak radio-activity. It is better not to used such crystals in medical aims, especially uncontrolled.
Stone therapeutists consider that heliotropes beneficially operate on circulation of blood, in particular increase the amount of haemoglobin in blood. These stone clear blood and help to stop hemorrhage. Possibly, such opinion arose up also due to colouring of heliotropes with their characteristic blood red including. Trust that heliotropes promote physical and mental activity, help to resist stress situations.
The characteristic color of anhydroferrite firmly linked him in consciousness of people with blood, haema sanguis. It was considered in olden times, that decorations from an anhydroferrite helped to stop blood and heal wounds. In east Medical stone therapeutics amulets from an anhydroferrite usedd for treatment of abscesses, for a fight against corking of blood vessels, for the stop of bleeding. Some people suppose in our days, that anhydroferrites "clear" blood, haema sanguis, help at the diseases of blood and beneficially operate on buds, hepar and spleen. It is considered that an anhydroferrite positively influences on hematopoiesis, can help at urinary and hormonal disorders. stone therapeutists assert that this stone stimulates sexual energy and promotes a piesis.
As well as other garnets, yellow hessonite (cinnamon stone) positively influence on the system of organs digestion, optimizing its work. A necklace from cinnamon stone beneficially tells on breathing. It is able to contest with inflammation of throat. Hessonite is useful at the diseases of skin, digestions, locks and allergy.
Decorations with insertions from a goethite help to contest with anaemia and cramps. It is talked that contemplation of goethite is useful people which are engaged in a body-building. A goethite helps at the diseases of organs ear and sight. This mineral renders salutary effect on the organs of the digestive system, in particular case on a gullet and intestine. It is considered that a goethite is activated by jaspelite of energy of kundalini along a spine.
As a howlite is contained by a calcium, it is considered that this mineral positively influences on a bone and on balance of calcium in an organism. In particular, trust that a howlite helps at a toothache and beneficially tells on the state of teeth. Necklace from a howlite usefully at a fight against the consequences of stress. It is considered that this white mineral as though absorbs in itself negative energy of illness and negative ejaspelites. A howlite is not subject cleaning. The women of decoration with a howlite are advised to carry during pregnancy.
As early as ancient Tibet, Mongolia and China doctors were able to cauterize wounds by sunbeams, skipped through balls from a mountain crystal quarz. Modern stone therapeutists consider that a natural crystal stabilizes spiritual and physical forces of man. The crystals of mountain crystal are instrumental in good job of spinal and head cord, help at ischemic illness, phlebeurysm and respirator diseases. By the crystals of mountain crystal it is possible to take off head pain and manage with stress. It is considered that they help to hammer together a temperature. In modern China crystal balls are used for a massage, and shallow sharp crystals (so-called "banci") - for stimulation of bioactive points.
It was considered in Ancient Rome, that garnets provided expectant mothers happy births. During cross hikes leavings in Jerusalem knights put on before a distant road a finger-ring with a Garnet to defend oneself from wounds and poisons. Grenades positively influence on digestion, breathing, circulation of blood and immune system. Trust that Garnet necklaces help at a high temperature, inflammation of throat and protracted head pains. The garnets of yellow or brown color are useful at the diseases of skin, digestions, at locks and allergy.
Stone therapeutists used grossulare for treatment of nervous break-downs. These varieties of Garnets are useful for a fight with anorexia - by the loss of appetite, and also causeless fears.
Due to the curative green colouring of demantiode beneficially affect organs of sight. It is well known also, that this color calms the nervous system. There is information, that demantiode reduce a piesis and help at medical treatment of different skin diseases.
Doctors assert that a dolomite is the source of the ionized calcium which active mastered the organism of people and animals. As is generally known, role of calcium in the vital functions of cages and fabrics of animals hardness to over-estimate. In particular, a calcium enters in the complement of bone fabric, increasing its durability. The ionized calcium is optimized by acid-base balance. The risk of different diseases of the cardiovascular system goes down as a result. Due to the ionized calcium a dolomite is warned by an osteoporosis, normalizes a piesis and reduces the level of sugar in blood (diabetes does not treat). There is information, that a dolomite is diminished by probability of formation of stone in buds. A dolomite also lifts the life-breaths of man and his stability to stresses.
Ancient hindus trusted that a smoke-coloured quartz destroyed negative energy and slags from an organism. Indian legends tell about a bowl from the whole crystal of smoke-coloured quartz, which cured people from any illnesses. A smoke-coloured quartz will help to deliver from stress and pain. stone therapeutists advise for this purpose to clutch in every hand on a crystal and to wait, while they not get warm. There is information, that a smoke-coloured quartz helps at inflammation of prostate and even at a hysteromyoma, however to these information it is necessary to belong carefully.
To carry at itself a piece polished dumorterite stone therapeutists advise people which firmly decided to be delivered from alcoholic or narcotic dependence. Dumorterite will not only help them to outlive the torments of abstinent syndrome but also will fix on a correct vital way. Dumorterite, in addition, is able to facilitate head pain.
In Chinese and Tibet medicine jade is usedd as a good power regulator stabilizer. Healers consider that noble jade evens the broken biotenergy of man the energy of Ci, gives the ejaspeliteal charging and regulates an arteriotony. Energy of jade is able to even and calm ejaspeliteal splashes. It is considered that it helps to contest with fruitlessness. Beads and bangles from jade positively influence to work of heart, even an arteriotony, protect weathers from influence. A finger-ring with jade can take off the fatigue of eyes and useful at meditation treatment of myopia.
There is argued that wares from pearls help at the diseases of buds, hepar, digestive system and beneficially influence at high blood pressure. In the famous treatise of Tibet medicine of "Chzhud-shi" specified, that pearls help at nervous break-downs, loss of memory and nervous weakness. "Pearl water" in which a few pearls lay during night is usedd in medicinal aims also. It can be drunk in the morning. It is considered that such water helps at bleeding of gums and piles, useful at treatment of conjunctivitis, able beneficially to influence at cholelithiasis illness. Pearl water possesses anti-inflammatory, antimicrobial and by haema sanguis rehabilitate effects. stone therapeutists consider that it can normalize a menstrual cycle.
In olden times there was a popular belief, that due to the "serpentine" colouring worm-pipe - a serpentine is able to serve as an effective antidote. Not by chance in Mongolia a greenstone worm-pipe is considered amulet, from the bites of snakes and insects. In Europe from a worm-pipe since olden times cut mortars and did capacities for medications. Therefore this mineral was known also as a "chemist stone". Modern stone therapeutists consider that a worm-pipe helps from head pain, able to wake up from lethargy and accelerate fusing of bones.
Pliniy Chief wrote about emeralds: "There is not a color which would be more pleasant for an eye". Indeed, it is known: a green color calms the nervous system and takes off tension from eyes. No wonder that due to the saturated green color emeralds have reputation for the acknowledged doctors of eye illnesses. stone therapeutists assert that emeralds help also at insomnia. They reduce a temperature, help to treat inflammations, contest with infections, useful at illnesses of urinary bladder and urinoexcretory ways. An emerald is treated by diabetes and burns, pains in a heart, reduces a piesis and helps treatment of psoriasis.
In ancient Chinese medicine powder of calcite was accepted as an astringent and febrifuge mean. Modern stone therapeutists consider that affecting of calcite organism depends on the color of mineral. For example, yellow calcite beneficially influences on buds. Calcite helps at the diseases of organs digestion: hepar, gall-bladder, pancreas and spleen. Calcite is used also at heart and organs breathing troubles: bronchial tubes and lights. Wounds, sprinkled powder from corals or petrifying shells of shellfishes (there is calcite in their basis), delay quickly.
Possibly, due to associations by milk of white opal considers a "womanish" stone. He is related to maternity. There is a popular belief, that expectant mother, carrying white opal as an amulet, easy births expect. It is considered that white opal possesses receptive energy. stone therapeutists assert also, that white opal can help at gastroenteric diseases.
Modern stone therapeutists recommend to skip water for drink through a mineral filter - special mixture from the crystals of quartz. Possibly also to insist water on a quartz. It is considered that such water renders a curative and stimulant action on the organism of people. Not surprising, that it so. In fact in nature life-giving water of springs also quite often passes through the layers of quartz. A quartz positively influences on a thorax and lights.
The cinnabars given about medical properties are contradictory. Already in 4-3 thousands B.C. in the China (Asia) of compound of mercury applied for treatment, leprosy. In the Arabic medical treatises of IX-XI century a cinnabar is also mentioned as a faithful mean for treatment of skin diseases. This tradition was saved up to our days. It is enough to remember that at the beginning of XX century ointments on the basis of mercury were treat syphilis. From other side, Taoistic monks, searching the elixir of longevity and immortality, quite often usedd a cinnabar in microscopic doses for preparation of the medical herbs. Thus easy symptoms of poisoning such "medications" are small ants, chill - accepted for the indexes of efficiency of "elixir". Simply, that similar medical herbs often resulted in death. For example, in IX in. their victims were consistently become at once by a few Chinese emperors, carrying with Taoism, Daoism. The decision of this contradiction consists of what compounds of mercury, and mercury, are poisons. It was well known yet to Avizenna. At outward application such matters are able to kill different microorganisms, many of which cause ulceration of skin. If to accept them inward, they will result in the heavy poisonings.
Stone therapeutists assert that corals activate the exchange of matters, beneficially influence on circulation of blood and cardiovascular system, improves memory. There is a popular belief, that corals are treated by abscesses and ulcers, including internal. Coral neutralizes the negative states - anger, envy. He is useful at the disease of thyroid, helps at asthma and possesses contraceptive properties. In Japan (Asia) powder from white corals is used for the acceleration of cicatrization of breaks of bones, in dental prosthetics. In Portugal (Europe) coral beads are considered a faithful mean from head pain, in England - from "illnesses of throat. In Russian (CIS) Medical stone therapeutics corals are also used for treatment of "diseases of throat and cardiovascular system, they help at depression and psychoneurosises.
It is considered that red corundums positively influence on treatment nervous, organs circulation of blood, spine and joints diseases. The corundums of such color help to contest with parahypnosiss. Dark blue and blue corundums will help to reduce pressure, manage with insomnia. There is opinion, that such corundums are useful at treatment of diseases of organs sight. stone therapeutists consider that dark blue corundums are able to facilitate pains in the back, caused an osteochondrosis.
Suppose that all of stone with the effect of "cat's-eye" possess certain general medical properties. They help at bronchial asthma, anaemia and attacks of rheumatism, able to weaken pains in joints. It is talked that beads from a cat's-eye are instrumental in a fight against the diseases of throat: by laryngitis, tracheitis and bronchitis. Specialists recommend to carry decorations with "cat's-eyes" after breaks for the quickest formation of bone callosities. Possibly, it the last property is conditioned intensification of cellmetabolism. Suppose that stone with the effect of "cat's-eye" help in treatment of psychical disorders.
In mongolian curative practice flints of sacred saffron-yellow color (color of lamaism) were applied for treatment of intestinal-gastric diseases. For this purpose silicic amulets were put on the area of celiac solar plexus. In curative practice opal-chalcedonic Millstone, Flint Stone sometimes usedd for a disinfestation and activation of water. Such water saturated energy possesses a sedative, antiseptic and styptic mean. It is a preventive from different infections. There is opinion, that "silicic water" kills not only microbes but also viruses. Trust also, that Millstone, Flint Stone helps at hepatitis, tuberculosis and diabetes of any type.
Stone therapeutists count some, that Labrador can be useful at treatment of fruitlessness, illnesses of joints and prostatic. They help to contest with the diseases of spine. Labrador activate metabolism and instrumental in the leadingout of stone from buds. There is opinion, that Labradors stabilize the aura of people.
It is said in Ayurveda, that lazurite, lapis lazuli is strengthened by a physical body, mind and consciousness. Water in which was on some time this stone is tomentous helps at treatment of eye diseases. The habitants of Pamira applied lazurite, lapis lazuli for cicatrization of wounds and for a fight against a hysonosus. Modern stone therapeutists consider that lazurite, lapis lazuli helps at migraines, nervous diseases, asthma and radiculitis. Lazurit is able to reduce an arteriotony and hammer together a high temperature. Lazurity is used for treatment of inflammations and for strengthening of sleep. It is considered that lazurite, lapis lazuli is improved by flowing of pregnancy and hinders abortions.
In Tibet medicine moonstones are traditionally used for healing from epilepsy and mental affections. Modern stone therapeutists write also, that a moonstone protects from epilepsy and other nervous attacks. It is considered that decorations from a moonstone beneficially affect buds, urinary bladder and urinoexcretory ductings, they help at edemata and hydropsy.
The texts of Indian Ayurvedy advise to lay on malachite on the "blocked" areas of body, to "dissolve power corks" and open ductings for passing of streams of biotenergy. The most useful are consider malachites of light tints. Fixed on the area of celiac solar plexus, malachite is taken off by ejaspeliteal tension. Malachite is able to take in negative energy, create physical and ejaspeliteal harmony in the organism of people. In modern Medical stone therapeutics malachite is used at heart, pancreas and spleen troubles. He activates a regeneration, positively influences on a hypophysis and epiphysis. In opinion of some American healers, malachite is a good counterradiation mean.
As well as other varieties of beryl, morganite help at pain in the back, at a cold and cold. Decorations with morganite it is useful to carry women for the quickest healing from different gynaecological diseases.
As morione is related to the other world, the beyond reality, trust that this stone helps to contest with narcotic dependences, returning people to normal life. Besides it morione is famous as " medicinal of blood", he helps at heart attacks and strokes, contests with cholesterol name-plates. Morion beneficially influences on a musculoskeletal locomotorium system and strengthens a spine (spinal vertebral column).
Stone therapeutists assert that a nephrite possesses project energy Yahn. Since olden times in China (Asia) the pounded nephrite was added to the "elixir of immortality" is drink for the maintainance of youth and health. Due to a large heat capacity the piece of nephrite, attached to the stomach, operates as appeasing pain hot-water bottle. It is considered that a white nephrite prevents illnesses of stomach and settles nerves. A reddish nephrite stimulates cardiac activity.
In India black iridescent obsidiane was honoured as stine-cleaner, which can resolve "power corks". On recommendation of stone therapeutists for the power charging of body obsidian is laid on the area of groin or on a belly-button. The pieces of obsidian, bodies located along a central line, are instrumental in smoothing of energy of meridians. On its opinion, it is useful to place next to obsidian the crystals of mountain crystal, which help to contest with psychical and ejaspeliteal "blocks". It is considered that beads for man, kombologion, beads and pendants from obsidian positively influence on a stomach and intestine, and also stimulate work of buds, stabilize pressure of blood and strengthen immunity.
In Mongolian popular medicine of small "plank" of the petrified tree (wood), found in the desert of Gobi, put to the joints at arthritis and other similar diseases. It is considered that the pieces of the petrified wood prolong life the proprietor, as do his nervous system more steady in relation to stresses. Possibly, such persuasion is related to appearance of powerful tree, resisting destructive forces of nature.
An onyx is used at nervous and depression diseases. Trust that he takes off stresses, pain flies around, instrumental in an ejaspeliteal equilibrium and self-control. Wares with an onyx promote potency, intensify an ear, rejuvenate and strengthen memory. stone therapeutists advise to put striped onyxs to the inflaming places. It is considered that if to drink water from an onyx bowl, it is possible to overcome a fatigue and take off sense of hunger.
Hindus trusted that opals helped children raise. In XVII in. Boethius de Boot is a court doctor of bohemia emperor Rudolf - wrote, that opal "... soothe nerves, helps at heart troubles, melancholy, fainting fits, saves from stormy passions, returns the sharpness of sight and brilliance eyes". There was opinion, that opals lose brilliance, portending illness of the proprietor. Modern stone therapeutists consider that opals develop intuition and beneficially influence on the nervous system, hypophysis, epiphysis. It is considered that opals are harmonized by all of functions of organism and protect him from infectious diseases.
Transparent orthoclase and white moonstone adularias positively influence on people, sufferings nervous and psychical diseases. stone therapeutists consider also, that transparent and semilucent stone are good "purifiers", affecting all of the systems of organs. There is opinion, that adularias it is possible to apply at treatment of oncologic diseases. you remember, however, what treatment must go hand in hand along with traditional, classic medicine.
The mother of pearl and pearls pounded in powder can it was be purchased in any medieval pharmacy up to XVIII century. Curative force, able to help from every illnesses, was added this mean. Not eliminated, that incoming in the complement of mother of pearl microelements are indeed able to render the stimulant and strengthening affecting organism of people.
The doctors of the ancient world usedd a Pyrite as mineral the "soul of fire is hidden in which". Clearly, that such presentation was based on ability of Pyrite to carve sparks. Modern stone therapeutists trust that a Pyrite harmonizes all of processes in an organism, both on physical and on mental levels.
Due to the saturated bloody color legend appeared that Arizona ruby (pyrope) normalize a piesis and help displacing of blood. In obedience to yogic concepts Arizona ruby (pyrope) gets into the saturated blood red color at normal power balance and dims at his violation. Yogis consider also, that Arizona ruby (pyrope) is stimulated by circulation of blood, gives energy and excites passion. To the expectant mothers Arizona ruby (pyrope) allegedly provides happy and easy births.
In olden times on the East the pieces of rhodonite put near eyes for strengthening of sight. Yogis considered that the soft vibrations of rose color, getting to the aura, stimulated a cardiac chakra and celiac solar plexus; charge both thin (ether) and physical body. East healers prepare from the "stone of morning sunset" the special elixir for treatment of oncologic diseases. Grodonit helps and at the diseases of hepar.
It is considered that a rhodochrosite possesses project energy Yahn. In Medical stone therapeutics balls from a rhodochrosite are usedd for a massage. There is opinion, that decorations with a rhodochrosite purge blood from slags and instrumental in the improvement of sight.
A rose quartz is useful at the diseases of the nervous and cardiovascular systems. This stone delivers from a fatigue, affecting nervous system. He is useful for activation of the lymphatic system work of which is closely related to the immune system. Beneficially a rose quartz influences on the secretory system, blood vessels and marrow. There is opinion, that a rose quartz can barrier from undesirable pregnancy and instrumental in longevity.
It is considered that depending on the color tourmalines can render effect on different organs and influence on different of chakras. For example, stone therapeutists trust that if to lay green tourmaline on a cardiac chakra together with rubellite, such combination will be refreshed by a heart, will compliment with him new forces.
Ability to protect from heavy diseases was in antiquity added a ruby. These stone allegedly rescued proprietors from different poisons. Modern stone therapeutists take a ruby a large role in healing of different ailments. It is considered that he is instrumental in recovery of diseases of blood, chronic tonsillitis, diseases of spine and joints. In addition, ability of ruby to prevent epileptic attacks is marked, positively to influence on the nervous system. This stone can take off depression, he helps at insomnia and schizophrenia.
It is considered that rings and coulombs with rutile quartz slow the process of senescence. They activate work of the immune system, and also help the organism of people quick mounted and restored after a radiation irradiation. A rutile quartz will help to manage with an accumulating fatigue and depression. He is an useful helper at treatment of different respirator diseases.
For the display of healthful properties of sapphire his proprietor must be chaste and kind. Not by chance a sapphire was named the stone of nuns; he helped to guard nativeity. It is considered that sapphires possess receptive energy, lower pressure, help at insomnia, pains in the back, colds and even at a cancer. A finger-ring or bangle with a sapphire on a left arm helps at asthma, heart and neuralgia troubles. It was considered that sapphires are able to cure leprosy. Sapphires, helps at illness of eyes.
In age-old book-clinics it was said about a sardonyx: "Who, pounding him in water, will have a drink this water, at that a tumour will fall on a stomach and he will get a facilitation". As talked already, in olden times the "womanish" distinguished and "masculine" sardonyx. First allegedly instrumental in conception, and the second helped the rapid healing from wounds and ulcers. Modern stone therapeutists consider that a sardonyx accelerates the processes of regeneration and helps more rapid fusing of bones after breaks. A sardonyx renders salutary effect on the organs of digestion, on the endocrine system and on a spleen.
In spite of relatively recent appearance of serafinite on a world arena, this mineral already had time to win itself glory of strong healer. It is considered that he renders the antihunt affecting ejaspeliteal sphere. It becomes firmly established at the same time, that this mineral stimulates regeneration processes in the organism of people at cellular level, attracting curative energy of space forces to itself. stone therapeutists advise patients, looking over flowings of color on-the-spot mineral, mentally to imagine resolve of negative clots of energy, disintegration of any undesirable educations in an own tel. There is opinion, that serafinite helps to contest with parasitogenic infections.
The healers of Ancient Egypt added the pounded cornelians to the sprinkles of snow, which rendered a sedative action and helped to restore forces. It is talked in Ayurveda, that the orange color of cornelian is able to recover nervous fabric, he helps at the diseases of the urino-genital, genito-urinary and respiratory systems, stimulates work of hemadens, improves circulation of blood and color of skin. Modern stone therapeutists consider that cornelians improve cerebral circulation of blood, strengthen the immune system, take off head pain, help at the diseases of skin and thyroid. Yellow cornelians are useful during poor job of intestine, in particular at locks, they help and at illnesses of buds.
In practical magic of Skott Kanningem sodalite is considered the good doctor of the psychoneurotic states. It is useful to carry him, to set internal harmony. Sodalit helps to contest with insomnia and consequences of radiation-damages on an organism. This mineral beneficially influences on the digestive system and intensifies metabolism.
Stone therapeutists add staurolite (granatite) ability to help people in a fight against stresses. It is considered that staurolite (granatite) can be " detoxicator", that instrumental in a leadingout from the organism of different poisons and finished goods of cellular exchange. Trust that staurolite (granatite) is able to intensify work of the immune system.
Magicians considered that a tiger's-eye managed sun energy, transforming its stream in curative "emanation" and sending it in the body of man. It was therefore advised to carry a tiger's-eye sick and hyposthenic people. Modern stone therapeutists consider that a tiger's-eye possesses project energy, helps at bronchial asthma and psoriasis. Decorations with a tiger's-eye will help quick to manage with a fatigue and overcome stress.
In middle ages topaz supposed the best mean against poisonings. Modern stone therapeutists consider that topazs protect a man from a cold, accelerate the regeneration of fabrics, treat the organs of digestion, hepar, gall-bladder, spleen. Topazs help at insomnia and brain-fag, take off stresses. These stone strengthen the immune system and used as protecting from psychical diseases. Gourmets are useful to remember that topazs are intensifyed by the taste feelings.
Tourmalines. Green stone help at the diseases of hepar, nervous system, circulation of blood and skin. They support the oxygen exchange of blood and strengthen immunity. Blue tourmalines beneficially influence on the lymphatic, hormonal and immune systems of man. A jetstone forms round itself a protective aura, reflecting all of harmful influences. In American Medical stone therapeutics for the conclusion of negative energy a jetstone is revolved anticlockwise above a sick mestome. Dark blue tourmaline is considered the stone of the world and quiet sleep. Colourless tourmalines create balance of spiritual and physical powers, clear consciousness.
Stone therapeutists add uvarovite ability to take off head pain, improve sight and ear. A decoration with an insertion from uvarovite will help to clean lights and circulatory system. There is opinion, that uvarovite helps to destroy from an organism slags and instrumental in treatment of nervous diseases. One of rare properties of stone - relief consequences of genetic diseases.
The connoisseurs of mystic properties of stone consider that ulexite render positive effect on the organs of sight.
The connoisseurs of stone consider that fluorite is a magic stone, able to take off stress, delivered from depression and anger. Modern stone therapeutists used the crystals of fluorite for treatment of diseases of cerebrum and cardiovascular system. It is talked that fluorite can help at in a fight against the dissipated sclerosis and epilepsy.
It is considered that chalcedonies, and above all things their blue varieties, are able to deliver a proprietor from the bursts of anger and attacks of melancholy. In obedience to ancient presentations chalcedony contains the elements of air and ether, therefore this stone is rendered by the sedative affecting psycho emotional sphere of people. Decorations with chalcedonies advise to carry people, to easily excited. Chalcedonies help to contest with neuroses and depression.
Decorations with chrysoberyls help to regulate circulation of blood, clear blood and strengthen blood vessels. In Tibet and Indian medicine chrysoberyls were considered stone, possessing strong project energy, able to render curative effect on a heart and circulatory system. Chrysoberyls were used for treatment of many diseases. In the Russian (CIS) codex "Izbornik of the Svyatoslav" is said that this stone rescues from a scab, leprosies and protects a proprietor from intoxication.
Stone therapeutists consider that chrysolites positively influence on the bodily and ejaspeliteal condition of man. They normalize cardiac activity, protect from the overfalls of piesis and drive away nightly nightmares. There is opinion, that chrysolites are useful also at treatment of cold diseases, illnesses of eyes and spine. It is talked that it is possible to treat a stammer a chrysolite. As well as turquoise, a chrysolite helps at eye illnesses, and also at the diseases of blood.
It is considered that a chrysoprase strengthens eyes, clears blood and diminishes rheumatic pains. A finger-ring with a chrysoprase is able to increase endurance of organism. A chrysoprase beneficially influences to work of brain and stimulates the exchange of matters. He is able to bring back to life activity of ductless glands. A chrysoprase is reduced by an arteriotony and helps to contest with stresses. Medical influence is rendered by not only a stone but also water, insisted on chrysoprases during 4-5 hours. The salutary affecting of chrysoprase the tired heart increases in combination with other "stone of heart" - rose quartz.
Trusted in olden times, that red zircon can prevent pregnancy. The stone heated for this purpose was laid in bottom of stomach on 2-3 hours daily during 8-10 days. It is in our days considered that yellow-red zircons positively influence on a hypophysis, cone-shaped gland and stimulate work of hepar (therefore zircons improve an appetite). They help at locks, gastric hyposecretion and atony of intestine. Zircons are instrumental in achievement of ejaspeliteal equilibrium and treat insomnia. Minerologi suppose that strong power influence of zircon can be explained the dipyramidal form of his crystals ("effect of double pyramid").
In yogic curative a practice citrine was considered a stone which stimulates celiac solar plexus and work of gastroenteric highway. In ancient times people trusted also, that a citrine protected venomous snakes from bites. A citrine is useful at gastritis, pyelonephritis, cystitis. A citrine activates work of cerebrum and accumulates vital energy in an organism. In addition, creates the vibrations of citrine round a body a protective aura which is able to barrier a man from external unfavorable influences.
Stone therapeutists assert that charoite it is useful to apply at the diseases of buds, hearts, hepar and different inflammatory processes. Charoitovye beads or coulomb will help to manage with head pain. They will be instrumental in strengthening of immunity and will take off an overpressure. For strengthening of protective forces of organism polished charoite lay bodies on the proper area. In medical aims it is possible to used charoite beads or coulombs also.
It is considered that transparent blood red crystals spinel ("Russian Stone") well affect bodily and ejaspeliteal condition of organism of people. In opinion of modern stone therapeutists, spinel is strengthened by circulation of blood. Possibly, therefore it strengthens immunity also, instrumental in the regeneration of fabrics, treats infectious, skin and gastric diseases. There are pointing, that spinel promotes potency.
Underwaters, flowings through schungite deposits mines, since olden times were famous the healthful properties. I On the dictate of the Russian king Peter I in 1719 year the largest source the resort of "Marcialny water" was opened, adopted so in honour god of war of Mars. Ranenye and sick warriors treated oneself here. Shungit remarkably clears water. Already in instructions of Peter I was said, that every grenadier held in a satchel a "asp stone" and put it into a pot with water, in "order protect fortress of stomach it (as absorbent carbon)". The Russian historians write, that in the days of the Ukraine Poltava battle exactly schungite rescued the Russian army from the epidemic of dysentery. It is in our days confirmed: schungite disinfects water, killing collibacilluss and choleraic vibrios, he neutralizes the admixtures of toxic metals, chlorine-organic compounds, ammonia and nitrates also. Important property of schungite water is its antiallergenic action, with its help treat asthma and consequences of burns. In particular case schungite helps at treatment of joints and different skin diseases of allergen origin: neurodermatitiss and psoriasis. For people which walked on a schungite macadam, there is rapid relief of radiculitis of pains and pains in joints.
It is considered that eudialyte is able to "clean blood" and positively to influence on the organs of sight. Trust also, that eudialyte improve work of pancreas. There is information, that eudialyte is able to influence on alpha-biorhythm of cerebrum.
About medical properties of amber mention in making of Senior Pliny and Galen. Some philologists destroy a word "amber" from Lithuanian gintaris is a "defender from illnesses". It is considered that amber helps at head and dental pain and overfalls of arteriotony. Amber can protect from a magnetic storm and improve sight. Preparations from amber possess a anti-inflammatory action. Amber positively influences on a thyroid, spleen and heart. Cannon-bits from amber diminish probability of origin of shrine for smokers. Being for a sale in Poland succinic vodka treats a quinsy and colds well. The receptions of amber-therapy are used in oncology for braking of growth of tumours.
In olden times jasper was considered a mean from epilepsy and fever. Trusted that jasper can improve sight, bring through epilepsy and take off a toothache. The Chinese healers considered jasper one of major pharmacological facilities for clearing of internal organs. Red jasper, in their opinion, was able to stop bleeding and heal womanish illnesses. On Taoistic presentations jasper strengthened a physical body and prolonged life. Famous Avizenna advised to carry jasper on a stomach, to prevent illnesses of stomach. A byzantine emperor Manuil presented the monks of mountain Athos jasper bowl, which not only cured from different ailments but also counteracted poisons.
Free of charge download teaching computer video of the use of massager:
Free download article Very dangerous and potentially dangerous stone and minerals are in Medical stone therapeutics, with pictures, 2010 year, format of PDF, 2.80 Mb (Presentation from scientific of author K.305 of pictures of very dangerous and potentially dangerous natural stone and minerals which on a bad motive or criminal indifference can be illegally used in criminal and "underground" "Medical stone therapeutics"). Rus langv.
Click on link with a file to "download" wmv the right mouse button, choose a command "Save target as" and save free of charge noncommercial educational video on the You computer. For viewing press reference to "view".
---
The scientific articles and materials of scientific author K.305 Yuliya V. Kaphtanova (Kharkov, Ukraine, CIS) can be officially ordered in the Kharkov Universal Scientific Library to address: a Cooperative street, 13, Kharkov, 61003, Ukraine (author's code K.305 2009-2019, Kharkov, Ukraine, CIS, passport of citizen official statement of the Ukraine MM670618, borned on September, 18, 1970 and constantly without break lives in town Kharkov, Ukraine, in 1994 are graduated the University, department of mathematical physics of the applied separation of applied mathematics, mathematical physics faculty from 1987 to 1994, Ukraine, Kharkov, certificate of Р N 586275 about completion of school #9 Kharkov from 1977 to 1987 - to married life Yuliya V. Kanunikova to November, 22, 2000, Dzerzhinskiy region of the Kharkov). I love a classic electric music (photo & read detal).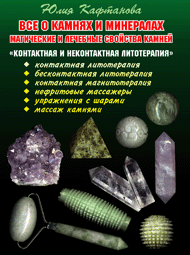 J.V. Kaphtanova. All about stone and minerals
Contact and uncontact stone therapy (application)

Illustrated application to base edition. Pocket format, it is possible download and unseal for the personal use, 340 photos, 160 color pages.
Described basic types of massager and trainers, technique of massage nephrite massagers, druzes, balls, eggs and crystals, including author. History of the reflexotherapy and contact stone-therapy. Reflexotherapy. Point massage by stone crystals. Massage stone druzes with the effect of Kuznecov's massager. Intimate massage and his features. Treatment water, by magnets, a magnetotherapy is typical errors and blunder errors. Complexes of medical treanings, including for a rehabilitation and prophylaxis. 340 pictures with the charts of work. The Russian language (Ukraine, CIS).
It is possible download of the b/w printer, .pdf 25.9 Mb or rar-unpack archive
Coloured photos RGB, free download the books, .pdf 29.8 Mb or archive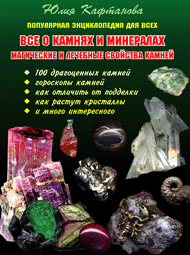 J.V. Kaphtanova. All about stone and minerals
Magic and medical properties of the stone (base edition)

In a book, written including on materials of my web site about stone and minerals, historical looks are popularly described to magic properties of more popular 100 stone. Zodiacs. Horoscopes. Briefly about stone therapy. Methods of ennoblement of stone, including dangerous. Comfortable pocket format, 264 b/w pages.
Tail-piece of account on specialists - mineralogist, geologists, physicists, applied mathematicians. With illustrations described a accessible language modern mathematical model of growth of the stone crystals traditional and cryptocrystalline forms (crystallography), object-lessons over and determinations are brought, modern physics of process is expounded. The Russian language (Ukraine, CIS)
I offer free download the books, pdf, 16.9 Mb or archive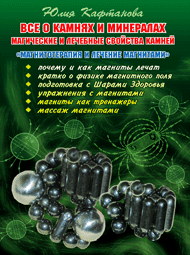 J.V. Kaphtanova. All about stone and minerals
Magnetotherapy and treatment magnets (application)

Illustrated application to base edition. Pocket format, it is possible download and unseal for the personal use, 320 photos, 160 color pages.
Expounded treanings and recommendation of the stone massage by medical magnets and survey physics of magnetic-field. Told, due to what treat magnets, what extrasensory influences and magnetic field are a to "itself extrasensory individual". Exercise with Balls of Health. Magnetic trainers and massagers. Briefly about the use of magnets in engineering creation, about their counterboring and about patenting. Most typical errors and blunder errors, related to the magnetic field and electromagnetic co-operations, briefly about "magnetic" and other swindlers - today treatment magnets and biofield is scientifically grounded modern physics. The Russian language (Ukraine, CIS)
Coloured photos RGB, free download the books, .pdf 19.2 Mb or archive
Reflexology and massage within the limits Medical stone therapeutics:
Other materials on the Medical stone therapeutics: