Catalogue and magic properties of the stone -->rus
Tourmaline



Description characteristic of the mineral.
Aluminum silicate of difficult composition. The term of Tourmaline is used today for denotation of whole class of similar minerals which at more intent consideration come forward as independent educations. The most remarkable feature of this mineral is him polychromatic is multicolouredness. Thus colourings change from dark blue and green to rose and colourless.
The mass appeal of tourmaline is foremost with beauty of the varied colourings of his different transparent varieties: it Rubellite - pink, rose or red; sibirite, or daurite, - cherry -red; indigolite - dark blue, blue; verdelite - green; Dravite (tourmaline) - brown, yellow, gold, brown; ahroite - colourless; chameleonite - olive-green at daily illumination, brown-red - at artificial; chrome-Tourmaline - emerald-green. Polychromatic tourmalines are larghetto developed with a transversely-lamellar or concentric zonality. Thus colouring changes from dark blue and green to colourless and rose. Most often there are green and rose colouring. Sometimes in polychromatic tourmalines with the diametrical-lamellar colouring, changing along lengthening of crystals, not only the indicated discolorations but also transitions are marked from colourless to black on ends. Such crystals meet on Elba. The coloured tourmalines (rose, green and yellow) are named Elbaite.
Certainly, rose, red, raspberry, cherry tourmalines are most showy - Rubellite. Today learned artificially to get tourmalines, however much synthetic tourmalines do not have a large value. Their natural supplies fully suffice. Largest junction of crystals of Rubellite was found in Brazil, his mass was about 4 tons. A most in junction crystal had 40 sm in length. There extracted a crystal, considered the largest among known, his length 100 sm and 40 sm in a diameter. In Russia (CIS) of mine deposit of tourmalines discovered in Zabaykale (Transbaikalia).
Tourmaline belongs to the number jewels, well known since olden times and widely applied in the whole world. The mass appeal of tourmaline is foremost, with beauty of the varied colourings of his different transparent varieties. Chemical composition of tourmalines determines colouring et al their physical properties. Brilliance of tourmaline is glass, Mohs hardness 7-7,5. Fragile. Cleavage absents. Blue, dark blue, green, yellow, orange, brown, brown to the black and the tints of iron-bearing tourmalines are conditioned the ions of iron ferrous. Emeralde-green a color is determined maintenance of ions of chrome. The rose, red colouring is caused the ions of manganese.
Jeweller tourmalines are known on о. Sri Lanka (the yellow and brown are twined and Dravite), in Burma (rose Elbaite), Brazil (Elbaite of different color, in that polychromatic), India - in state Dzhammu and Kashmir (green Elbaite), Namibia (green chrome- tourmaline, green and pink rose Elbaite), Zimbabwe (clean Elbaite), Mozambique (Elbaite with the tender colouring in different tones, polychromatic), on Madagascar (polychromatic lyddocoatite with the concentric-zonal colouring), in Tanzania (green Elbaite), Kenya (red and brown-red Dravite), the USA - in the states of Californium (rose Elbaite), Maine (green, bluish-green, blue, rose and red Elbaite), Connecticut (polychromatic Elbaite), New Mexico and New Jersey (Dravite), and also in Afghanistan (Nuristane).
Prices on tourmalines of different color are not stable. At treatment of tourmaline the step cutting, rarer diamond or fantasy is often used. Polychromatic tourmalines and stone with star asterism of cabochon.
Magic properties of stone.
Beneficially salutary wholesome influence on a body and reason. Talisman of love and victory, hope, unfading everlasting youth and energy power force. Stone are amulet, charm, talisman from jinxing, spoilage, harmful essences and people. They guard artistic natures from the sterile throwing, daryls confession and energy power force of execution of projects. Rose Tourmaline is a keeper of love. It delivers from sufferings and fears. Raspberry Tourmaline is considered the talisman of artists, it gives creative forces and brings confession. The green absorbs and cools passions. Pied Tourmaline - half green, half red, stone of creative and erotic impulses, saves youth and energy power force in a people. And, finally, black Tourmaline - Schorl is considered the stone of witches or widows. Most magic - red Tourmaline, bringing a luck and successes in love to the men, step-up their energy and strengthening sex potency of the man (male).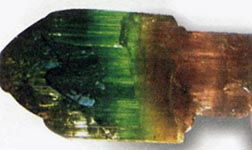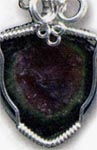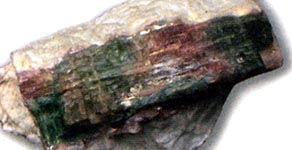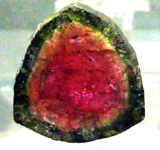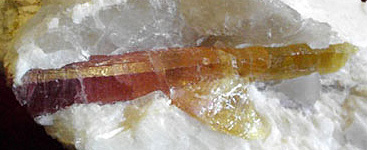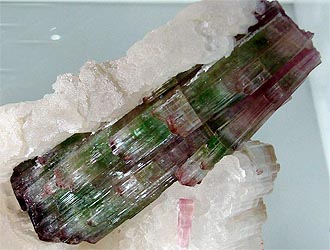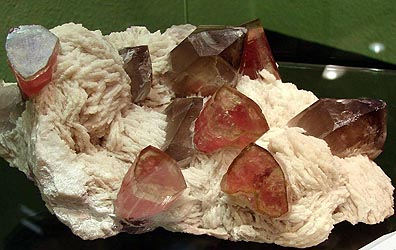 Poisonous and radioactive risky hazardous cargo stone and minerals
** - are poisonous stone and minerals (mandatory verification is in the chemical analysis laboratory + on toxicity)
** - are radioactive stone and minerals (mandatory verification on a regular dosimeter + prohibition on the opened sales in the case of radio-activity over 24 milliroentgens / hour + additional measures of protection of people)
All of rare stone are subject obligatory verification on a regular dosimeter on the possible level of radiation and in a chemical laboratory on absence default of poisonous and evaporating components, dangerous for a human people and environment nature
Free download article Very dangerous and potentially dangerous stone and minerals are in Medical stone therapeutics, with pictures, 2010 year, format of PDF, 2.80 Mb (Presentation from scientific of author K.305 of pictures of very dangerous and potentially dangerous natural stone and minerals which on a bad motive or criminal indifference can be illegally used in criminal and "underground" "Medical stone therapeutics"). Rus langv.
A catalogue of stone is all of stone in alphabetical order